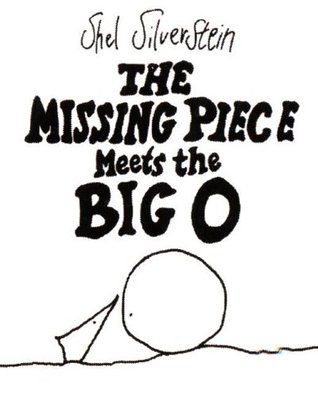 Judul
: The Missing Piece Meets The Big O
Penulis
: Shel Silverstein
Penerbit
: HarperCollins
Tahun Terbit
: 2006
Format
: Hardcover
Bahasa
: Inggris
Status
: Owned. Birthday gift.
Rating
: 5 out of 5 stars
Saya bilang di awal aja ya kalo review ini bakal rada spoiler. Jadi silakan kalo mau baca ato nonton dulu videonya di Youtube. Silakan nyari sendiri videonya karena saya gak merasa perlu menambah dosa dengan menyebar versi bajakan youtube-nya di review ini.
Seperti buku Silverstein yang lain, buku ini menyentuh dalam kesederhanaannya.
Artwork
di buku-buku Silverstein emang selalu simpel dan bersih. Tapi cerita dan pesannya tak pernah sesimpel itu.
Missing Piece Meets The Big O pada dasarnya menceritakan tentang suatu kaum yang telah lama ada. Kaum yang sering jadi bahan candaan, celaan dan galauan #tsah. Yaitu kaum jomblo.
Bermula dari sepotong
missing-piece
yang merasa dirinya bagian dari sebuah lingkaran. Karena bentuknya yang segitiga seperti potongan kue itu, dia gak bisa menggelinding dengan bebas dan merasa dirinya gak lengkap. Makanya dia pengen nyari lingkaran yang merupakan bagian dari dirinya. Supaya dia ngerasa utuh dan gak jomblo lagi.
Tapi ini bukan perkara gampang, sodara-sodara!
Dia bertemu beberapa lingkaran-gak-utuh, tapi ukurannya gak pas. Ada yang cuma nerima dia sebentar, terus ditinggalin di pinggir jalan. Ada lagi lingkaran yang punya terlalu banyak
missing piece
. Ada juga beberapa lingkaran-tak-utuh yang sibuk mencari potongannya di tempat jauh sampe gak ngeh dengan keberadaan dia.
Bukannya si
missing-piece
ini gak berusaha meningkatkan pasarannya lho yaa.
Dia sudah berusaha kok menghias dirinya dengan bunga-bunga ato berdiri di bawah neon terang biar keliatan. Tapi apa daya, tetap aja keberadaannya bagaikan remah rempeyek di kaleng bekas biskuit khong guan : terlupakan dan gak penting.
Untunglah, pada akhirnya
missing-piece
ketemu pasangan yang cocok!!!
Apakah cerita selesai dan tokoh kita hidup bahagia selamanya? Ternyata kebahagiaannya cuma sementara. Karena mereka lalu gak cocok dan musti berpisah. Yaahh :(
Hingga akhirnya
missing-piece
bertemu Big O yang merasa dirinya utuh dan bahagia. Big O-lah yang mengajarkan kepada
missing-piece
bahwa dia gak mesti bersama yang lain untuk merasa utuh. Caranya? Baca aja deh sendiri. Biar saya gak terlalu spoiler.
Sebenarnya saya udah lama banget baca buku ini. Tapi baru tergerak mereview setelah baca postingan
Cepi Sabre
yang berjudul
Jalan Tengah Jomblo Ala Jokowi
. Di artikel tersebut, Cepi membahas tentang keputusan yang dibuat pak Presiden yang akan membuatnya berakhir menjomblo. Pertanyaannya, tipe jomblo yang manakah beliau?
Lah...emang jomblo ada tipenya?
Ternyata di dunia maya (ato setidaknya dunia maya versi Cepi Sabre) berkembang 2 teori jomblo yang sangat bertolak belakang.
Teori pertama dari
Mbah Nyutz
dalam tulisan yang berjudul
Falsafah Erotisme : Akar Penyebab Jomblo Berkesinambungan
. Dalam tulisannya, Mbah Nyutz berteori bahwa jomblo kronis berawal dari paham erotisme ala mak Erot yaitu paham melebih-lebihkan sesuatu. Paham ini melahirkan eskapisme (lari dari kenyataan). Dalam konteks kejombloan, itu berarti orang berusaha melupakan tetapi tidak berikhtiar menyelesaikan problem kesendirian.
Teori jomblo kedua berasal dari
Harri Gieb
yang menganggap
jomblo adalah laku tauhid
. Harri Gieb berpendapat layaknya tauhid, menjomblo adalah proses mencari tanpa maksud untuk mencapai hasil yang pasti selain kembali kepada Yang Esa. Proses mencari bagi seorang jomblo bukanlah proses untuk 'mengetahui' kemudian 'mendapatkan'. Ia adalah proses untuk 'menyadari' kemudian 'menjadi'.
Seperti halnya Jokowi, tokoh utama kita : si
missing-piece
, jelas tak termasuk kedua golongan ini. Dia sudah berikhtiar supaya gak sendiri. Dan walo pun usahanya gagal, minimal dia tak mencari justifikasi atas status jomblonya.
Missing-piece
juga tidak pernah menganggap kejombloannya sebagai jalan tauhid. Bagi
missing-piece
, proses pencariannya bermula karena dia 'mengetahui' dia gak lengkap, dan karenanya berharap dia akan 'mendapatkan' pelengkap. Sampe akhir pun,
missing-piece
tidak berpikir bahwa dia ditakdirkan 'menjadi' jomblo.
Maka Cepi Sabre datang dengan solusi untuk menjadikan jomblo sebagai jalan tengah.
Bedanya, Jokowi menjadikan jomblo sebagai jalan tengah ketika menyadari bahwa dirinya tidak bisa memuaskan semua orang.
Missing-piece
justru
mengambil jomblo sebagai jalan tengah karena sadar bahwa tak ada (ato setidaknya belum ada) pihak yang bisa memuaskan dia
(wait...ini alasan yang berbeda kan? XD)
Well...apapun alasannnya, menjomblo sebagai jalan tengah sesungguhnya hanyalah penegasan takdir eksistensi kita yang pada hakikatnya tidak bisa memuaskan semua orang dan belum tentu juga bisa dipuaskan oleh seseorang (nah lho!).
So we just gotta do all we can and let others judge whether it's up to their standar or not.
Take it or leave it! And fuck if they leave it! :))
Masih menurut Cepi Sabre, walau tidak menjadi tujuan tapi menjomblo sebagai jalan tengah toh masih bisa membuat kita berjalan dengan kepala tegak. Paling-paling cuma Penyair Chairil Anwar dari kuburnya di Karet Bivak yang akan meneriaki kita:
"Mampus kau dikoyak-koyak sepi!"
Sebuah pendapat yang cuma bisa saya setujui setengah awalnya saja.
Karena sepi tidak selalu harus hadir saat jomblo/sendiri. Buktinya Once yang mantan vokalis Dewa 19 itu bisa bilang di keramaian dia masih merasa sepi.
Dan pastinya, kesendirian tidak selalu melahirkan sepi. Minimal Shel Silverstein telah membuktikan hal ini dengan ending kisah The Missing Piece Meet The Big O.
Moral of the book: A healthy and lasting relationship consists of two whole individuals
Diikutkan dalam #ReviewMaret
@momo_DM @danissyamra @ridoarbain di https://bianglalakata.wordpress.com/2015/03/03/reviewmaret-ayo-me-review-buku-fiksi/