Tahun 2012 akan segera berakhir. Dan seperti tahun lalu, kali ini saya juga bakal posting Top Five Book Boy Friends.
Untuk saya pribadi, ada perbedaan antara event tahun ini dan tahun lalu. Kalo tahun lalu saya membuat
Top Five Book Boy Friends of All Time
, maka tahun ini saya mengkhususkan hanya pada buku-buku yang saya baca di tahun 2012 ini.
Lalu untuk tahun ini, event Book BoyFriends ini tergabung dalam proyek
Book Kaleidoscope 2012
milik Mbak Fanda. Dalam Book Kaleidoscope ini tidak hanya ada kategori Best Book BoyFriends, tapi juga Best Book Covers dan Most Favorite Books.
Setelah mendaftarkan diri ikutan event ini, baru saya melihat buku yang
sudah saya baca sepanjang 2012
di Goodreads dan baru nyadar kalo kebanyakan buku yang saya baca tahun ini tuh non fiksi. Dan sekalinya fiksi pun, lead male-nya kurang berkesan (_ _"). Untungnya, saya masih bisa milih 5 di antaranya. And without further ado, here they are (in alphabetical order) :
1. Alex Sheathes dari Delirium Series
Alex, remaja bebas pemberani yang mampu meyakinkan Lena untuk menerjang tembok pembatas dan mengenalkannya pada dunia baru. Alex yang mampu membuat Lena percaya diri. Alex yang tak pernah berhenti mendukung dan selalu mendengarkan curahan hati da kegelisan Lena. Dan Alex yang selalu melindungi Lena bahkan dengan nyawanya sekali pun. What's not to like from this character?
"You can build walls all the way to the sky and I will find a way to fly above them. You can try to pin me down with a hundred thousand arms, but I will find a way to resist. And there are many of us out there, more than you think. People who refuse to stop believing. People who refuse to come to earth. People who love in a world without walls, people who love into hate, into refusal, against hope, and without fear.
I love you. Remember. They cannot take it."
Untuk versi real life-nya, saya harus ngaku kalo saya buruk dalam hal pemilihan aktor. Saya gak tahu banyak aktor soalnya.
Tapi sesuai dengan deskripsi Alex Sheathes yang
"His hair is golden brown, like leaves in autumn just as they're turning, and he has bright amber eyes"
maka saya memilih dia :
Yep...dia adalah
Shiloh Fernandez.
What do you think?
2. Augustus Waters dari The Fault In Our Stars
Ah...masihkah Augustus Waters perlu diperkenalkan pada khalayak kutu buku? Saya yakin, namanya akan cukup banyak muncul dalam list Top Book Boyfriend tahun ini.
"Oh, I wouldn't mind, Hazel Grace. It would be a privilege to have my heart broken by you." - Augustus Waters-
Kalo harus menunjuk tokoh paling optimis di buku yang saya kenal sepanjang 2012 ini, maka Augustus lah jawabannya. Dia mantan penderita kanker memang, tapi semua orang juga tahu bahwa yang namanya kanker selalu ada kemungkinan kambuh lagi.
Apa pengetahuan ini membuat Augustus jadi pesimis dan "pahit"? Sama sekali tidak.
Dia tetap menjalani hidupnya dengan riang dan berani. Semangat hidup August, kemampuannya untuk berpikir out-of-box, optimismenya pada kehidupan dan supportnya pada Hazel membuat saya memasukkannya dalam daftar Top Five Book Boyfriends versi saya tahun ini, dia bahkan bisa masuk ke kategori all time. That shows how much I love him.
(PS: Eh baru nyadar kalo belum ngereview bukunya :D)
"You don't get to choose if you get hurt in this world...but you do have some say in who hurts you. I like my choices."- Augustus Waters-
Siapa aktor yang cocok berperan sebagai Augustus?
Jujur...saya susah banget ngebayangin siapa yang cocok. Tapi gimana kalo ini :
Yep...dia adalah
Andrew Garfield
. Okeh...dia mungkin ketuaan untuk jadi remaja 17 tahun, tapi...tapi...dia begitu ganteng (eaaa....fangirlingnya kumat), dan jahil dan slengean.
3. Beno Wicaksono dari Twivortiare
Sebenarnya tipe cowok lempeng dan datar kayak Beno bukanlah tipe favorit saya.
Jadi apa yang membuatnya masuk dalam Top Five? Lebih karena karakternya yang family man dan bertanggung jawab banget.
Di sela-sela kesibukannya sebagai dokter bedah thoraks, Beno selalu mencari waktu untuk menunjukkan pada Alexandra (istrinya) bahwa dia mencintainya. Beno emang pembuktian nyata dari kalimat :
"Just because someone doesn't love you the way you love him to, doesn't mean he doesn't love you with everything he has."
Kalimat lama yang sudah pasaran banget tapi toh terbukti kebenarannya. Thanks for reminding me about that words, Ben.
Mengenai versi orangnya, hmm....penulisnya sendiri sih bilang Ari Sihasale yang paling cocok untuk peran ini (kalo gak salah ingat yaaa). What do you think? Does he fit?
Mungkin penulis melihat dari brewoknya kali yaa.
Kalo buat saya sih, lebih pengen menominasikan Reza Rahadian (semua karakter di film Indo emang suka saya bayangkan sebagai Reza kok). Etapi Reza Rahadian cocok gak sih jadi karakter pendiam nan lempeng?
"Lex, dulu kamu pernah minta aku janji bahwa aku nggak akan melepaskan kamu apa pun yang kamu bilang atau minta ke aku. So this me not letting you bail, Sayang. This is me not letting you go. Okay?" -Beno Wicaksono-
4. Gerry Kennedy dari P.S.I Love You
Apa yang kamu harapkan dari seorang pasangan hidup?
Seorang yang tidak hanya bisa menjadi kekasihmu tapi juga bisa menjadi sahabat terbaik? Someone that could make you feel like you're home whenever you're with him/her? Someone that always makes you feel loved? Someone that you could always turn to when the going get tough?
Itulah tepatnya arti seorang Gerry bagi Holly.
Apa yang membuat Gerry lebih istimewa lagi?
Surat yang dikirimkan Gerry kepada Holly bahkan sampai 10 bulan setelah Gerry meninggal. Many guys could tell their woman that they love her, many guys could prove it too. But not many guys who could prove it to their woman after they passed away. Dan satu hal lagi yang menarik, karena surat-surat itu menjadi kekuatan Holly dalam menghadapi hidup setelah ditinggal Gerry.
Wow...he really is someone she could turn to anytime.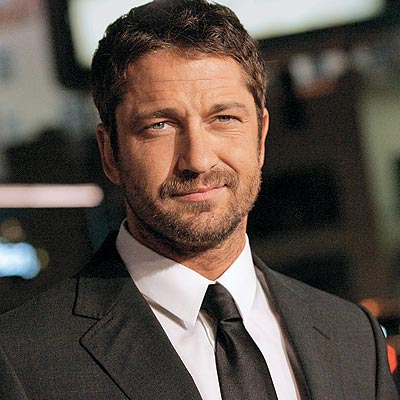 Buku ini telah difilmkan dengan Gerard Butler sebagai Gerry Kennedy.
What can I say? I looovveee Gerard Butler.
Berhubung filmnya saya tonton setelah baca bukunya (iyaaa...saya emang baru nonton filmnya tahun ini juga), maka jujur saya sih gak bisa ngebayangin sosok Gerard saat baca bukunya.
Tapi waktu nonton, it feels that he fits the role.
"What do you want? I know what I want, cause I'm holding it in my hands."
-Gerry Kennedy, while holding Holly by the shoulders-
5. Hunter Zaccadelli dari My Favorite Mistakes
"I don't like you. I don't like how your hair smells, and how I can't stop thinking about waking up and seeing your face. I hate how my bed felt empty when you left. I don't like how good you were with my family, especially Harper, and how I wanted ot see you with them again, but not just as a guest. As a member. You're right. I don't like you at all." -Hunter Zaccadelli-
Secara penampakan fisik, Hunter emang tipe bad boy. Punya tattoo, pake anting, you name it lah. Tapiii di luar itu, Hunter juga pinter masak (wow), jago main gitar daann jago nyanyi.
Tapi yang bikin Hunter masuk dalam top 5 bukan cuma karakteristik di atas.
Yang bikin Hunter stands out buat saya adalah kesabaran dia menghadapi Taylor (ceweknya). Dia tahu kalo Taylor punya trauma tertentu yang bikin cewek itu susah percaya sama orang asing apalagi cowok. Jadi satu-satunya cara bagi Hunter untuk bisa mendapatkan Taylor adalah dengan mendapatkan kepercayaannya. And that's what he did.
Yang saya suka juga, Hunter itu gak gombal. Gak ada janji setia sehidup semati yang dia bilang. Gak ada juga segala kalimat till-death-do-us-part. Tapi dengan caranya sendiri, Hunter bisa meyakinkan Taylor bahwa dia serius.
"I can't promise not to make you mad. I can't promise that I won't hurt you. All I can promise is that I want you in my life, and I'll do anything to keep you there."


-Hunter Zaccadelli
Yeaa..,yeaaa...I know it's cheesy, but that is the kind of cheesiness that I like.
Dan soal romantis? Kurang romantis apa sih kalo ada cowok yang ngomong kayak gini ke ibu kamu:
"You're not just doing that to impress her, are you?"
"Everything I do is to impress her. It's my mission in life," he said with a completely serious face, while he squeezed my knee under the table.
Hmmm....sapa ya yang cocok jadi Hunter? *garuk pala*
Jujur aja, menurut saya sih cowok di cover itu udah pas. Saya juga ngebayangin yang mirip di cover kok selama membaca bukunya.
Tapi kalo harus milih, what about this one :
Dia adalah
Wentworth Miller
. Yaaa...emang lagi-lagi ketuaan sih buat jadi Hunter
*garuk kepala lagi* *tapi gak ketombean lho*
#pentingabis
Tapi imagenya Aa Wentworth ini cocok buat jadi Hunter.
Dan itulah top 5 book boyfriend saya untuk tahun ini. Jujur aja, ada di antara mereka yang sepertiya gak akan masuk top 5 versi saya seandainya saya punya pilihan lain. Tapi dari pilihan

yang ada tahun ini, this is the best for me.
Gimana dengan kamu? Siapa top 5 book boyfriend/girlfriend

-mu? Sharing yuk.
Oiya kalo mo liat top 5 book boyfriend versi blogger lain, silakan cek masterpost event ini di blognya Mbak Fanda.